Moss is a common problem for tarmac driveways and pavements. It can make the surface look unsightly, and it can also be dangerous if it becomes slippery. If you have moss on your tarmac, it's important to get rid of it as soon as possible. There are many moss killer products on the market, but which one is the best? In this blog post, we will discuss the best moss killers on the market and help you choose the one that is right for you! Keep reading to learn more.
SmartSeal Moss Clear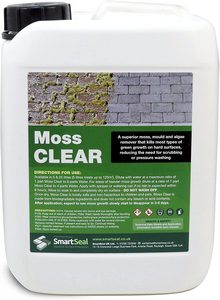 If you're looking for a product that can effectively kill moss, algae, and lichen spores, SmartSeal Moss Clear is the way to go. This powerful formula will quickly eliminate any green growth, without the need for high pressure washing or scrubbing. It comes in a handy 5 litre size, so you can tackle even the biggest jobs. One heavy application will remove moss completely, and the product is non-toxic so it's safe for use around plants and pets.
It can be applied by watering can or sprayer, making it easy to get the job done. SmartSeal easy-to-use moss killer inhibits regrowth, so you can keep your tarmac, patio, porch, or deck free of unsightly green patches. Just 5 litres will cover an area of 100-125m2, making it a great value for your money. And since it contains no bleach or acid ingredients, it's gentle on your skin and environment.
PROS
Easy to brush off moss after apply
No scrubbing and wiping
Cleanses heavy moss growth
Prevents regrowth
CONS
It takes time to kill the moss completely
ULTIMA-PLUS XP Green Mould And Algae Remover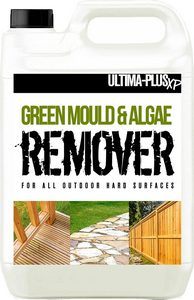 If you're looking for an algae and mould remover that really packs a punch, look no further than ULTIMA-PLUS XP. This powerful formula creates a protective barrier to stop regrowth happening for up to six months, so your hard surfaces stay clean for longer. The 5 litre package provides plenty of coverage for large areas.
Its biodegradable formula is gentle on surfaces and safe for children and pets, making it the perfect solution for your mould and algae problems. One bottle covers up to 200m2, so you can rest assured that your problem will be taken care of easily. It works quickly, within 2-3 days, to get your surface looking clean and new again. Be sure to always use protective equipment for your skin and eyes!
PROS
Requires minimal effort
Works fast
Can be used on almost any surface
Can be applied with watering can
CONS
Complex Chemicals Moss Killer Super Concentrated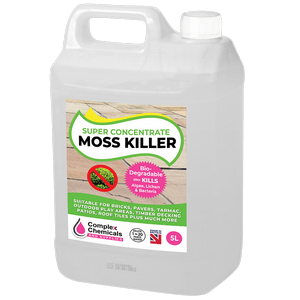 Complex Chemicals' Moss Killer Super Concentrated is perfect for removing pesky moss from your garden or driveway even tarmac. This product is biodegradable and doesn't contain any acid or bleach, making it safe to use around your home and garden. It comes in a generous five-litre bottle, so you'll have plenty of moss killer on hand!
It's pet friendly, so you don't have to worry about your furry friends getting sick, and it's extremely effective against fungi and bacteria. Moss Killer is easy to use, so you can get the job done quickly and easily. This product provides great coverage and will leave your property looking great in no time!
PROS
Works effective
Fast result
Great coverage
Easy to apply
CONS
Kills even plants or grass
Conclusion
Moss killer for tarmac is an important part of home and property maintenance. There are many different types of moss killers available on the market, but how do you choose the best one? We've outlined the benefits of using a non-toxic product that removes moss quickly and easily, with great coverage. This product is also biodegradable, so it's safe for your family and pets. Plus, it prevents regrowth so you can enjoy a moss-free surface for longer. Ready to try this easy solution?