Do you have a brown spot in your lawn? Is there a bald patch where the grass will not grow? Don't worry, we can help. In this blog post, we will discuss the best methods for repairing your grass patch. Whether you are dealing with a small area or a large one, we have the perfect solution for you. So read on and learn how to fix your lawn today!
Miracle-Gro Patch Magic Grass Seed, Feed and Coir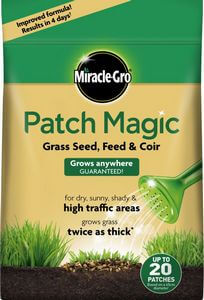 Looking to add some luscious greenery to your home but don't have a green thumb? No problem! Miracle-Gro Patch Magic is here to help. Patch Magic is the perfect solution for fixing up any bare patch of lawn. It's easy to use and grows anywhere, so you can get your lawn looking great in no time. Miracle-Gro Patch Magic is the perfect combination of coir, grass seed, and plant food – it's sure to help your lawn flourish.
Miracle-Gro Patch Magic is a unique and innovative product that repairs bald patches. At the same time binder prevents the seed from washing away. It contains coir, which protects the seed and helps it to grow.
This premium grass seed grows thicker and lusher than ordinary grass, without any of the agricultural grasses that can take over your yard. It's perfect for sun or shade, high traffic areas, and slopes, meaning you can have a beautiful lawn no matter where you live. No more worrying about worn paths or bald spots – Patch Magic will make your lawn look amazing.
It can be used from spring to autumn, and you'll see first visible results in just four days! Plus, it's safe for both children and pets, so you can rest assured that everyone in your family can enjoy a well-maintained yard.
PROS
Easy to sow
Germination in 5-14 days
Grass resistant to dog urine
Very thick grass
Lush lawn in a month
CONS
Grow Pure Grass Seed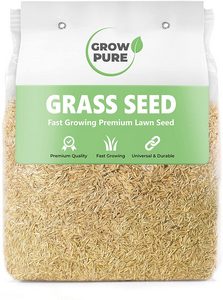 Are you tired of waiting for your grass to grow? Well, wait no more! Grow Pure Grass Seed will give you lush, green grass in just seven days. Its high-quality seeds will have your lawn looking its best in just seven days. 1kg pouch can cover an impressive 60 square metres. Plus, Grow Pure grass is specially adapted to the UK climate, meaning you can enjoy beautiful greenery all year round.
This amazing seed grows easily, even in hot or cold weather, and doesn't require reseeding. If you have any patches of brown grass, Grow Pure Grass Seed will quickly repair them. This non-toxic grass seed is a mix of Turf Perennial Ryegrass and Strong Creeping Red Fescue, making it perfect for any lawn. Plus, it's child and pet friendly.
PROS
Fairly inexpensive
Grows great in both sun and shade
Rapid grass growth
Great coverage per package
CONS
MOOWY Power Lawn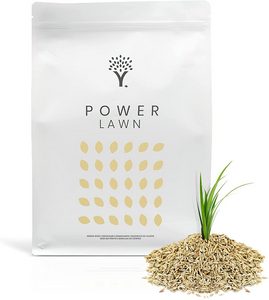 If you're looking for a product that can help you repair your lawn quickly and easily, MOOWY Power Lawn is the perfect solution. Made with fast-growing grass seeds, this product is ideal for patching up any bare or damaged areas on your lawn. Just sprinkle 34g/m² over the affected area and water regularly, and you'll see new growth almost in no time! Not only will your lawn look better than ever, but it will also be more resilient to future wear and tear.
This tough lawn is made up of 80% Perennial Ryegrass and 20% Red Fescue, making it one of the most robust grasses on the market. Not to mention, it's also one of the prettiest! The MOOWY Power Lawn will give your yard a gorgeous green hue that will make your neighbors jealous. It will first sprout within 7 to 14 days, making it a great choice for those looking for a quick and easy way to achieve a lovely lawn. The MOOWY Power Lawn is great to use from February to October.
MOOWY lawn is tough enough to withstand playing children and outdoor parties, but also returns year after year – no more replanting! Plus, its unique formula helps it to withstand cold weather and battles weeds – meaning you'll have a luscious, green lawn all year round.
PROS
Grows in both heat and cold
Resealable pouches
Grows in the shade
No need for reseeding every year
Great value for money
CONS
Conclusion
There you have it – three easy to sow and grow grasses that are perfect for repairing bald patches in your lawn. All of these varieties will thrive in the UK climate, so you don't need to worry about reseeding each year. And since they are all child and pet friendly, you can rest assured that your little ones and furry friends won't damage the new growth. So, what are you waiting for? Pick the best grass patch repair for your needs and get growing!