When cooking food on the grill, people tend to favor or think of a large BBQ, but not everyone has the luxury or need for a massive BBQ. That is why we put together a list of the 5 best small gas BBQ reviews, highlighting what each one does best, so you can find the best compact BBQ for your next cookout.
Char-Broil X200 Grill2Go – Most Durable Portable Gas BBQ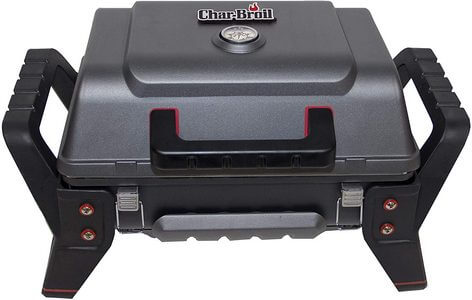 Char-Broil is not only one of the most recognizable BBQ brands in the world, but it also has plenty of experience, tracing its origins back to 1948 when it brought the first consumer grills to market. The Char-Broil X200 Grill2Go continues with that tradition by not only offering a solid option but including uncommon features.
In terms of cooking power, this small gas BBQ sits somewhere in the middle, putting out 2800W or 9500 BTUs through its single stainless steel burner. However, the Char-Broil X200 Grill2Go has an ace up its sleeve as it is also the only entry on our list to employ TRU Infrared technology for more even cooking.
While this allows this small gas BBQ to cook better than most, it also tends to make this option run a bit hot which does not work quite as well if you need to slow cook the food. It is also worth noting that the Char-Broil X200 Grill2Go falls a bit short in terms of total cooking area at just 1206 cm2.
That said, when you consider the sturdy design of this small gas BBQ, it may just be worth the modest sacrifice to the cooking area. It also does not hurt that the Char-Broil X200 Grill2Go comes with a locking lid and an electric starter to make using this option more convenient.
PROS
Puts out 9500 BTUs
Cooks more evenly
Uses TRU Infrared technology
Is more durable
CONS
Poor low heat cooking
Not the largest cooking area
Campingaz Party Grill 400 CV – Most Versatile Small Gas BBQ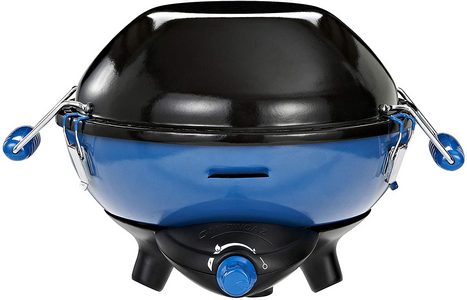 Unless you keep up with French companies, you may not be quite as familiar with Campingaz even though it is an incredibly experienced company with over 70 years under its belt. It is likely this experience that allows the Campingaz Party Grill 400 CV to offer such a versatile model that accommodates more cooking options than most.
Keep in mind, some of the small gas BBQs we reviewed offer multiple cooking methods, but none of them come close to the versatility of this entry. The Campingaz Party Grill 400 CV offers a stainless steel grate as you would expect, but it also comes with a pan support, non-stick griddle, non-stick grill, and the lid also doubles as a wok.
As if that were not enough, this small gas BBQ can also accept a wide range of different fuel types, though you need to purchase a separate regulator for fuel other than propane. Still, the Campingaz Party Grill 400 CV continues to impress thanks to a large cooking area of 1512 cm2.
One aspect of this small gas BBQ that does not impress is its cooking power as the fuel only pushes 2000W or 6824 BTUs of heat – the lowest on our list. On top of that, the Campingaz Party Grill 400 CV may come with non-stick cooking surfaces, but the general cleanup process can be difficult.
PROS
More portable than most
Has a 1512cm2 cooking area
Comes with numerous cooking surfaces
Can use multiple fuel types
CONS
Difficult to clean
Not the best cooking
ACTIVA Crosby Gas Table Grill – Largest Portable Gas BBQ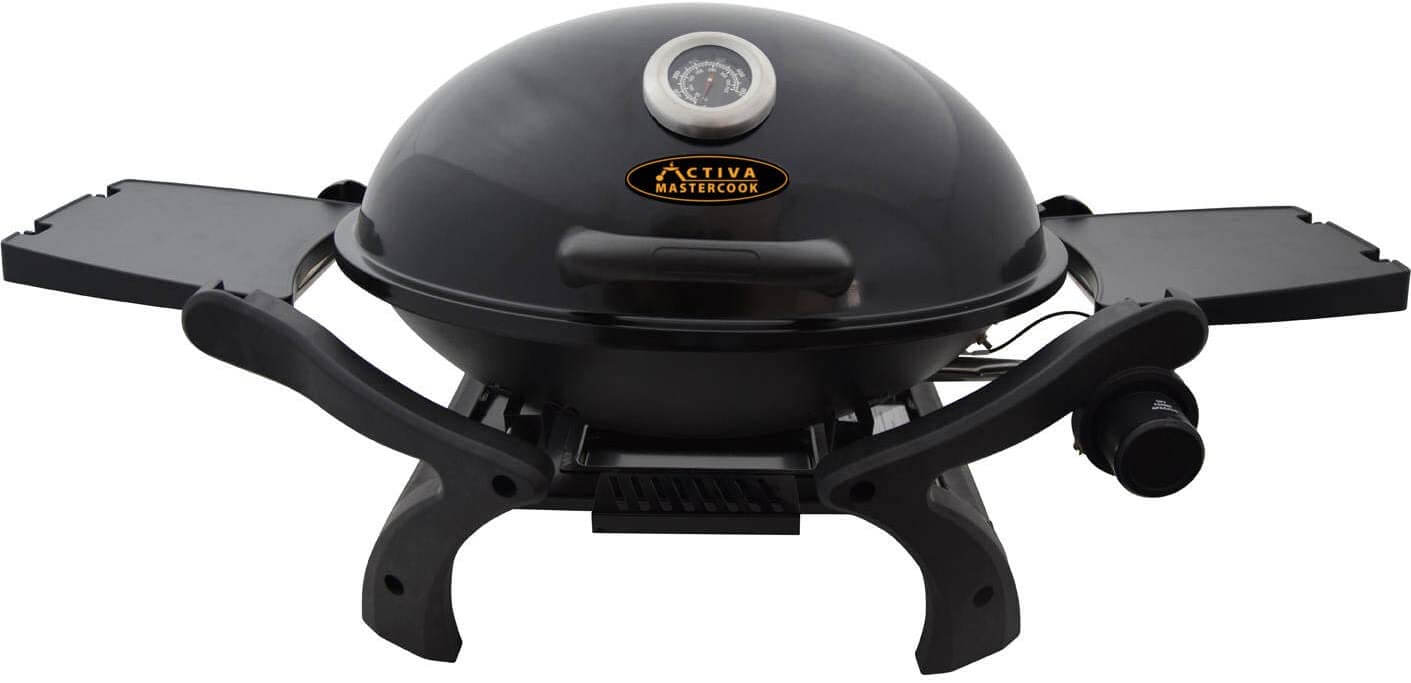 Activa Grills is a bit of a departure on our list in that the company is just under 2 decades old, though that does not seem to present any issues. In terms of specs and overall quality, the ACTIVA Crosby Gas Table Grill is one of the best-performing small gas BBQs that we came across.
This high-end performance begins with this small gas BBQ's cooking ability which puts out 3400W or 11601 BTUs – the second best on our list. As if that were not enough, the ACTIVA Crosby Gas Table Grill also provides the largest total cooking area we reviewed at a massive 1833 cm2.
However, this small gas BBQ really impresses with the inclusion of cast-iron grates that transfer heat better and cook the food more evenly than stainless steel or aluminum. As an added cherry on top, the ACTIVA Crosby Gas Table Grill also comes with sides for holding plates or utensils that fold when not in use.
Unfortunately, all of the additional parts of this small gas BBQ make it a bit more difficult to use than some – especially when it comes to assembly. On top of that, for as much heat as the ACTIVA Crosby Gas Table Grill generates, its lid design leaves a lot to be desired and lets heat escape such that the edges of the grill are cooler than the middle.
PROS
Puts out 11601 BTUs
Has an 1833 cm2 cooking surface
Comes with cast-iron grates
Has foldable shelves
CONS
Difficult to assemble
Edges are cooler
Dellonda DG21 – Hottest Small Gas BBQ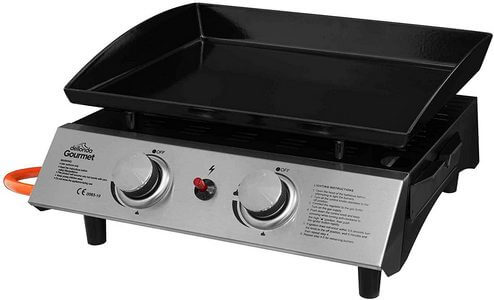 Dellonda is an interesting company on our list for a couple of different reasons from the fact that it has only been around for about a year to its lack of focus in any specific market, let alone BBQs. That said, the Dellonda DG21 follows other newcomer leads by providing better specs than many of their more experienced competitors.
One thing about this small gas BBQ that leaps out is its insane cooking power which puts out a scorching 5000W or 17060 BTUs. However, you do not have to worry about only flash cooking with the Dellonda DG21 thanks to the inclusion of dual burners that can be independently controlled.
Of course, you still can flash cook if you want as this small gas BBQ comes with a thick 3.5 mm non-stick steel griddle with an included grease tray. That said, this might allow the Dellonda DG21 to cook more evenly, but it also prevents you from cooking with direct flame and imparting that classic BBQ flavor to the food.
It is also worth noting that while the thick, steel griddle cooks exceptionally well, it is also fairly heavy, and this small gas BBQ tips the scales at 12.1 kg – the second-heaviest on our list. Though, that minor inconvenience might be worth the sacrifice as the Dellonda DG21's griddle also provides 1692 cm2 of total cooking area.
PROS
Puts out 17060 BTUs
Has a 1692 cm2 cooking area
Has a 3.5 mm non-stick steel griddle
Has dual burners
CONS
Is a heavier grill
No direct fire cooking
Weber Q 1000 – Most Convenient Small Gas BBQ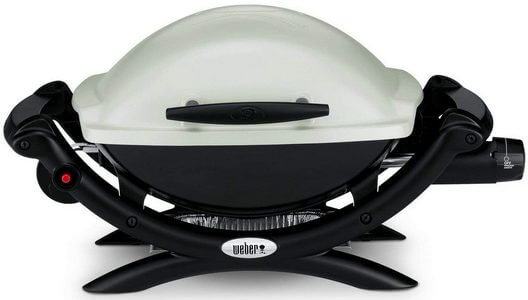 After Char-Broil, Weber might be the only brand reviewed that garners such a prestigious reputation thanks in a large part to the company's commitment to innovation. However, the Weber Q 1000 follows a pretty standard formula with the exception that offers superior materials and a more convenient design.
In terms of the materials, this small gas BBQ is only the second model on our list to come with cast-iron grates to cook more evenly and better transfer heat. However, the Weber Q 1000 takes this a step further by also coating the cast-iron grates in porcelain to make them significantly easier to clean.
The porcelain coating of this small gas BBQ's grates also means you do not have to worry about "seasoning" them with a baked-on layer of oil to prevent rust or corrosion. That said, much like with other models that include cast-iron, the Weber Q 1000 is the heaviest model on our list at a hefty 13.1 kg.
That would not necessarily be the worst quality, but this small gas BBQ also puts out less heat than most of the competition at an incredibly modest 2500W or 8500 BTUs. Regardless, if you are willing to take the time with the Weber Q 1000 its exceptionally large grease tray allows you to cook more food without worrying about an overflow.
PROS
Has porcelain-enameled cast-iron grates
Has a larger grease tray
Easier to clean
Easier to use
CONS
Not the largest cooking area
Not the hottest grill
Conclusion
Ultimately, the best small gas BBQ will depend on exactly why you need a small model in the first place. For example, you need a small gas BBQ for easier transportation, then the Campingaz Party Grill 400 CV best satisfies that end as both the lightest and most compact model.
However, you may not want to sacrifice cooking power just for easier transportation, in which case the Dellonda DG21 might be your best bet – despite its heavier weight. Still, the idea of a small gas BBQ does not mean "too small" with the ACTIVA Crosby Gas Table Grill and its large cooking area.
It is also worth noting that convenience in terms of cooking performance and cleanup can be important factors, both of which the Weber Q 1000 excels at. Finally, if you want to make sure that your food cooks evenly with infrared technology, the Char-Broil X200 Grill2Go is the only game in town.