Do you have a problem with seagulls? If so, you're not alone. These pesky birds can be a real nuisance, especially when they start to congregate near your property. Luckily, there are ways to keep them away. In this blog post, we will discuss the best seagull scarers on the market and how to use them effectively!
Defender Bird Spikes Seagull Deterrent Kit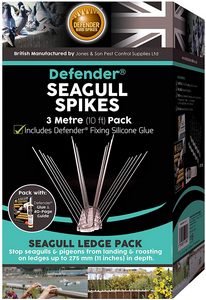 Stop pesky seagulls from landing, perching, or nesting on your property with Defender Bird Spikes. These British-made spikes are easy to install and will effectively deter birds from your home or business. Each 3-metre pack comes with easy-to-follow instructions, so you can quickly get started on protecting your home or business.
These spikes are made of high-quality stainless steel that will not rust, even after years of exposure to the elements. Plus, they come with a fixing silicone glue that makes installation a breeze. The spikes are designed to move seagulls away and provide all-weather protection. No specialist tools are required – simply install the spikes and you're good to go!
These easy-to-install spikes can be fitted to any ledge with a depth of up to 27.5 cm, making them perfect for both commercial and home use. Most importantly, they are completely safe for birds, meaning you can rest assured that your defend your property without harming any animals.
PROS
Extremely effective
Easy to set up
Included glue
Seagulls instantly disappear
CONS
Bird B Gone Spinning Spider Bird Deterrent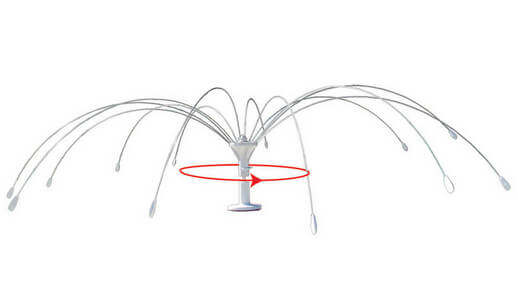 It's not a bird, it's a plane! No, wait. It is a bird. A pesky bird that is ruining your picnic, driving you crazy with its incessant chirping, and making a mess on your car. If you're looking for an effective and humane way to deter birds from landing on your property, Bird B Gone is the perfect solution. This powerful deterrent creates a visual distraction zone that prevents birds from landing, giving you the peace of mind and protection you need.
Bird B Gone is the solution for bird control in a variety of settings. Made of stainless steel, the product comes with a glue-on base.The easy installation makes it a breeze to get started, and the included mounting base ensures that it stays in place. Choose from different diameters to find the best fit for your needs. Whether you're looking to keep birds away from your property or out of your garden, Bird B Gone has you covered!
PROS
Does not harm
Easy to install
Keeps ducks off too
Can be used on boats
CONS
A level surface is required for installation
MultiSound BS-20L Sonic Bird Repeller for Seagulls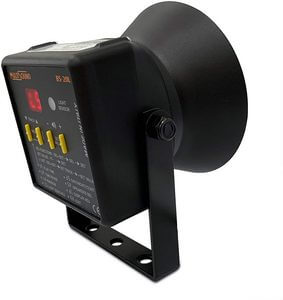 Are pesky seagulls making a mess of your property? Well, worry no more with the MultiSound BS-20L sonic bird repeller. This device emits alarm sounds that scare away seagulls, and it's built with a light sensor to ensure optimum performance during the day or night.
The MultiSound BS-20L is the perfect land monitor for anyone looking to keep an eye on their property during the day. And its off at sunset function ensures that you won't get any unexpected surprises at night. Its compact design makes it easy to transport, while its monitoring capabilities allow you to keep track of plots up to 1 hectare.
MultiSound BS-20L is the perfect outdoor speaker system. It's easy to install, and it comes with a 12V power supply so you can set it up anywhere you want. Plus, the tough weatherproof design means this system can handle anything nature throws your way.
It is the perfect sound machine for anyone who wants to avoid disturbing breeding animals or pets. This noise machine offers three different modes: daytime, nighttime, and 24-hour. It also includes a variety of programs to choose from, so you can find the perfect sound for your needs. Whether you're trying to get some peace and quiet during the day or want to make sure your animals or pets aren't disturbed at night, the MultiSound BS-20L has you covered.
PROS
Is an professional product
One device covers a large area
Wide range of settings
CONS
Conclusion
If you're looking for a humane and effective way to get rid of seagulls from your property, there are several options available to you. We've outlined the three most popular types of seagull scarers and given you some pros and cons of each. Hopefully, this will help make your decision easier when it comes time to choose the best seagull scarer for your needs. So, which seagull scarer is right for you?