If you're like most people, you take great pride in your home and want it to look its best at all times. One way to achieve this is by keeping your driveway and sidewalks looking new with a good block paving cleaner. There are many different products on the market that claim to be the best, but how do you know which one to choose? In this blog post, we will compare some of the most popular cleaners and help you decide which one is right for you.
Chemiphase Sodium Hypochlorite Patio Cleaner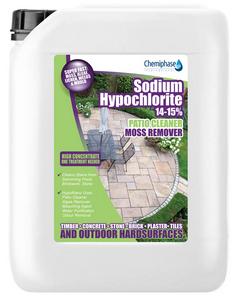 Looking for a patio cleaner that works fast and is a long term solution? Look no further than Sodium Hypochlorite Patio Cleaner. This highly concentrated product is the perfect solution for your patio cleaning needs.
This cleaner is specially formulated to remove moss, lichen, algae, weeds and mould, and only requires one treatment for optimal results. It comes in a handy 5 litre packaging that makes it easy to use. This powerful cleaner can remove even the most stubborn stains in minutes, providing you with a clean surface that you can enjoy immediately.
Sodium Hypochlorite can be used on a variety of surfaces, such as stone, concrete, brick, plaster, tiles and timber. It's perfect for keeping driveways, patios, walls, fences and brickwork looking clean and new. For routine maintenance, dilute the Sodium Hypochlorite Patio Cleaner in water and spray or wipe onto the surface.
Just one litre of this powerful cleaner can treat up to 10m², making it perfect for even large patios. Be sure to use eye and wear protection. Avoid allowing people or pets onto the treated area for 2 days!
PROS
Highly effective cleaner
Remowes black spots
Can be used on roof tiles
Restores the surface to its original appearance
CONS
Block Blitz Block Paving Treatment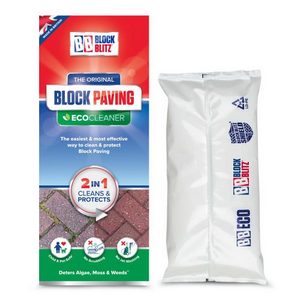 Block Blitz is the perfect solution for busy people who want to keep their block paving clean and protected. Quick and easy to use, Block Blitz doesn't require any scrubbing or jet washing – simply apply it and leave it to work its magic. Developed and produced in the UK, Block Blitz is the most effective way to clean and protect your block paving.
This paving treatment uses soft wash technology to kill algae, moss, and weeds for up to six months. It can treat up to 20 square meters per package – so it's perfect for large projects.
Block Blitz is easy-to-apply block paving treatment. It will transform the appearance of your outdoor surfaces in an instant. Just mix the powder in a watering can and apply it to the affected area – it really is that simple! It is an eco-friendly and non-toxic product, is 100% biodegradable, so you can rest assured that you're not harming the environment. Give your home's exterior a facelift today with Block Blitz!
PROS
Easy to use
Effect lasts for 6 months
Kills moss and weeds between the joints
Contains no bleach or acids
Best value for money
CONS
SmartSeal Xtreme Patio Cleaner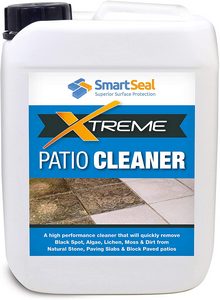 If you're looking for a powerful patio cleaner that can tackle even the most stubborn stains, then consider SmartSeal Xtreme. This innovative product quickly and easily removes algae, black spots, surface grime, moss and dirt, making it perfect for stone, paving slabs and block paved surfaces.
This professional-grade cleaner quickly and easily kills any algae that may be growing, meaning you won't need to go through the trouble of pressure washing. This concentrated cleaner can be easily applied with a watering can or sprayer. Simply spray on and leave to work its magic. In no time at all, your patio will be looking good as new! 5 litres of cleaner will treat up to 40 m² – perfect for extra large areas!
PROS
Effective Product
Easy to use
Kills plants
Up to two years between applications
CONS
Conclusion
So, there you have it – our top three picks for the best block paving cleaner. We hope this has helped make your decision a little bit easier. All of these products work fast and are effective at removing moss, lichen and algae. Plus, they're easy to apply and don't require any pressure washing. Plus, it's safe to use on all types of blocks, so you can rest assured that your pavement will look brand new in no time. Ready to give it a try? Choose the best block paving cleaner for your needs today!