Raking is an important part of garden maintenance, and it is especially useful for removing moss. Moss often grows in shady, damp areas, and it can quickly spread if left unchecked. Raking helps to remove moss by breaking up the mats of blades and lifting them out of the soil. This process also exposes the underlying soil to sunlight and air, which can help to discourage new growth. In addition, rake removal is often more effective than chemical treatments, and it is less likely to damage lawn grasses. In addition, rake also helps to remove any dead leaves or debris that may be blocking sunlight and air from reaching the soil. As a result, rake is an essential tool for anyone who wants to keep their lawn looking its best.
BLACK & DECKER GD300 Lawn Raker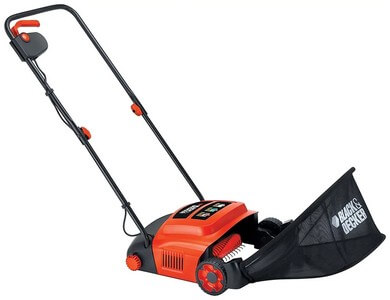 The BLACK & DECKER GD300 Lawn Raker is a great choice for anyone looking for a reliable and easy-to-use lawn raker. With a height adjustment system, you can easily adjust the raking depth to suit your needs, while the 30-litre front loading box ensures that you can keep on raking for longer without having to stop and empty it out. The 30cm working width means you can cover a large area quickly, and the lightweight design makes it easy to manoeuvre around your garden.
This handy tool lets you rake your lawn at three different heights (2, 3, 8mm), so you can get the perfect finish every time. GD300 is perfect for medium-sized gardens. A 10 metre power cable means you don't have to fumble with extension cords.
This handy tool features three rows of metal tines that can sweep, scarify and rake moss, thatch and autumn leaves. The lightweight design and foldable handles make it easy to store and transport. It's perfect for keeping your yard looking neat and tidy all year round!
PROS
Easy to use
Lightweight
Fast moss clearing
Easy to manoeuvre
Good value for money
CONS
Wolf-Garten UG-M 3 Multi-Change Moss Removal Rake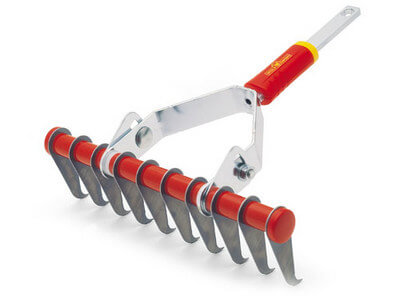 Wolf-Garten's UGM Multi-Change Moss Removal Rake is the perfect tool for removing moss and thatch from your lawn. Made in Germany, this rake is part of the Multi-Change system, so it can be easily swapped with other tools in the line.
With a Swing Head, it can be pushed to glide over the lawn, or pulled to bite into the lawn and remove moss. The 30cm head width means you can cover a lot of ground quickly and easily.
The sharp, hardened barbed blades make it easy to get rid of unwanted moss with minimal effort. With its lightweight design, this rake is perfect for anyone who wants to make quick work of moss removal.
PROS
Pulls out a lot of moss
A part of Multi-Change range
Teeth digging up stones as well
Sharp blades
10 year guarantee
CONS
Gardena 3395-20 combisystem Vertical Cutter
The Gardena 3395-20 is the perfect tool for quickly and easily removing moss and thatch from your lawn. The tines are made of high-grade stainless spring steel for durability, and the working width is a generous 32 cm. This cutter is also ergonomically designed for comfortable use.
This cutter features robust wheels and sliding backs on the tines, making it a great choice for a variety of tasks. Plus, it fits on all Gardena combisystem handles, so you can use it with the tools you already have.
Gardena Lawn Scarifier is made of high-quality materials that are great at protecting against corrosion. Plus, it comes with a 25-year warranty, so you can be confident in its durability.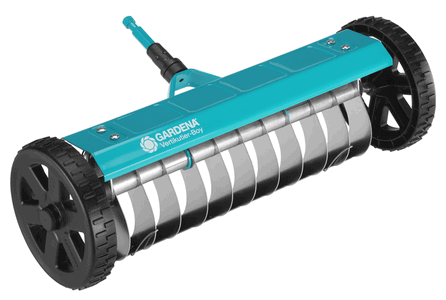 PROS
Easy to use
Better than a rake
Perfectly removes moss from the grass
The wheels make it easier to work
25 year guarantee
CONS
Handle purchased separately
Conclusion
So, what's the best rake for moss removal? With so many options on the market, it can be tough to decide. However, with a little bit of research and understanding your specific needs, you should be able to find the perfect tool for the job. We hope this article has helped give you some ideas about which rake might work best for your needs and that removing moss becomes a little less daunting. Happy raking!