Block paving is a popular choice for patios, driveways and pathways. It is durable, low maintenance and easy to clean. However, over time, dirt, grime and oil can build up on the surface of the paving, making it difficult to remove with a standard garden hose. Oil remover is specifically designed to break down oil and remove it from paving. It is safe to use on all types of block paving and will not damage the surface. In addition, oil remover is easy to use – simply apply it to the affected area and leave for a few minutes before rinsing away with a garden hose.
Here are three reasons why you should use oil remover for block paving:
Oil stains can be very difficult to remove without the proper cleaner. Oil remover is specifically designed to break down and remove oil stains, making it much easier to clean your block paving.
Over time, oil stains can penetrate the surface of the block paving, causing permanent staining. Oil remover will remove the stain completely, restoring the original look of your block paving.
Block paving is an investment, and you want to keep it looking its best. Oil remover will help you do that by keeping your block paving clean and free of stains.
Using oil remover is the best way to keep your block paving looking its best. It's easy to use and it will make a big difference in the appearance of your home.
HG Tile and Natural Stone Oil and Grease Absorber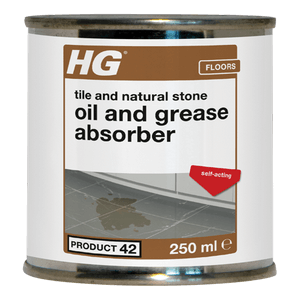 HG oil and grease absorber is a self-acting universal oil absorbing cleaner that quickly and easily absorbs the oil or grease from the stone, removing most types of oily and greasy stains in the process.
The HG Oil and Grease Absorber is the perfect solution for removing oil and grease stains from porous surfaces. It absorbs oil marks quickly and effectively, making your surfaces look clean and new again. The absorbent formula can be used indoors or outdoors, making it a versatile and convenient product to have on hand.
This versatile product is perfect for patios, driveways, and garages. It can also be used on natural stone flooring and tiles inside your home.The 250ml can will make quick work of even the toughest stains. Don't let oily stains ruin your surfaces – reach for HG Oil and Grease Absorber instead!
PROS
Easy to use
Works quickly
Can be used on a wide range of surfaces
Apply even at home
CONS
Small tin
Leaves a whitish residue, but easy washed by water
Resiblock Oil Remover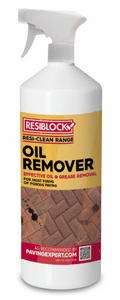 If your driveway or patio is looking a little worse for wear, it may be time to invest in a good quality oil remover. Resiblock Oil Remover is an effective solution for removing oil, petrol, diesel and grease from porous paving. It comes in 1L and 5L packaging, so you can choose the size that best suits your needs.
This powerful formula quickly and easily removes all sorts of oil stains, restoring your surfaces to their original, natural colour. Whether you're dealing with a small spill at home patio or a big mess in a commercial setting, Resiblock Oil Remover is up to the task. And because contains quick-splitting emulsion, it won't damage or degrade the surface you're cleaning. But remember Resiblock Oil Remover is not for inhouse works!
PROS
Easy to use
Fast acting
Helps with old stains
CONS
LIQUI MOLY Oil Spot Remover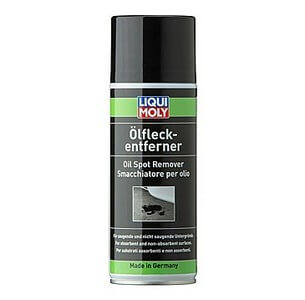 Don't let oil stains ruin your good looks! Liqui Moly Oil Spot Remover is a special agent formulated to quickly and easily remove oil stains from surfaces. It works on both absorbent and non-absorbent surfaces, so you can use it on virtually anything. Just spray it on, let it work its magic, and watch the stains disappear. It comes in a convenient 400 ml can, so you can take it with you wherever you go.
Simply apply the remover to the affected area and let it work its magic – in just 20-30 minutes, those ugly oil spots will be gone! This product is specially formulated to remove environmental pollutant oil patches quickly and easily Plus, LIQUI MOLY Oil Spot Remover is made in Germany, so you know it's a quality product that you can trust. So don't let oil spots ruin your day – pick up some LIQUI MOLY Oil Spot Remover today!
PROS
Good at asphalt, concrete, clinker and screed
Ease of use
Great results on light paving
CONS
Conclusion
With so many oil removers on the market, it can be tough to decide which one is right for your needs. We've done the hard work for you and have found the best oil removers for block paving. If you're looking for an easy-to-use product that will restore the natural colour of your surfaces, the list above is for you. Have you tried using an oil remover before? What was your experience like? Let us know in the comments.