Oil helps to protect garden furniture against the elements and can help to extend its lifespan. UV rays from the sun can cause wood to fade and crack, but a coat of oil helps to create a barrier that prevents the sun from damaging the wood. Oil also repels water, which can cause wood to rot.
In addition, oil helps to mask the appearance of scratches and marks, keeping your furniture looking new for longer. When applied properly, oil provides an invisible layer of protection that can help to keep your garden furniture looking great.
Wood that is regularly treated with oil will last for many years, meaning that you won't have to replace your garden furniture as often. Oil also gives the wood a beautiful natural sheen, bringing out the grain and making it more attractive. If you want your garden furniture to last for years to come, then regular treatments with oil are essential.
Furniture Clinic Wood Teak Oil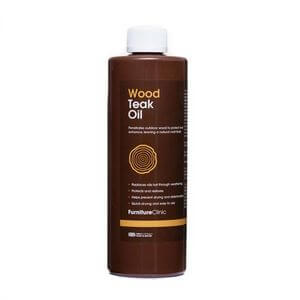 Enhance the natural beauty of your wood furniture with Furniture Clinic Wood Teak Oil. This blend of drying oils penetrates the wood to protect and enhance its appearance. The high-quality tung oil and linseed oil give your furniture a rich, lustrous look.
It is the perfect product to keep your garden furniture looking great. It dries to a natural matt finish, preventing it from turning grey, and is suitable for all types of garden furniture.
This easy-to-use, quick-drying oil is perfect for providing both protection and waterproofing to all types of wood. And it also provides UV protection to keep your furniture looking great year after year.
Furniture Clinic Oil is perfect for covering larger areas, as it provides up to 20m² of coverage per litre. It dries relatively quickly, in just 4-6 hours, so you won't have to wait around forever for it to dry. Oil is made in Britain, so you can rest assured knowing that you're supporting local businesses, and can be confident in its quality.
PROS
Easy to apply
Water repulsive
Beautiful golden colour
Dries completely with no tackiness
CONS
Ronseal Ultimate Protection Hardwood Garden Furniture Oil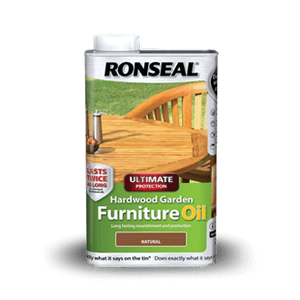 Ronseal Garden Furniture Oil is the perfect way to keep your garden furniture looking its best. It is a water-based oil that is a combination of oils and resins. It can be used on any hardwood garden furniture and will help to protect it from the elements.
Ronseal Oil nourishes and protects wood, and dries in just six hours. Plus, it's weather resistant and water repellent, so you can rest assured that your furniture will stay in excellent condition come rain or shine.
This garden furniture oil is available in three colours and can cover up to 18m² per litre. So you're sure to find the perfect shade to match your garden furniture. Plus, it's easy to apply and will give your furniture a beautiful shine.
PROS
Easy application
Beautiful sheen
Non-greasy finish
Sinks in grain cracks
Great waterproofing
CONS
May produce an allergic reaction
Not an oil at all
Nordicare Sealing Oil for Wood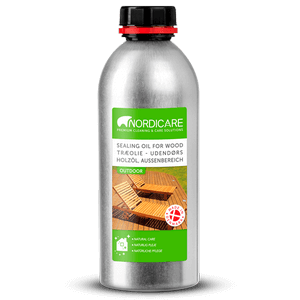 Nordicare Sealing Oil for Wood is the perfect solution for treatment and maintenance of outdoor wooden surfaces. It is suitable for all types of wood and is a low-odour wood care product.
Nordicare Sealing Oil for Wood is the perfect product to protect your wood surfaces from drying out. It provides a lasting barrier against moisture, dirt, and rot, while remaining dirt and water repellent. Don't let your beautiful wood furniture be ruined by the weather!
This top quality oil provides a durable barrier against UV rays, water damage and wear and tear, keeping your wood looking like new for years to come. Easy to apply with a brush or cloth, it dries quickly and has a coverage of 8-12m² per litre, making it great value for money. The oil is made in Denmark and comes in multiple packaging sizes(0.5, 1, 2.5, 5 litres).
PROS
Colourless gloss
Easy apply
Smells good
Absorbs quickly
CONS
May be a bit sticking after drying
In the end
Now that you know all there is to know about the different types of teak oil and their benefits, it's time for you to make a decision. Which product will provide your garden furniture with the best protection?
So, if you're looking for an easy way to protect your garden furniture from the harsh British weather and extend its life, look no further than a teak oil. Not only will it keep your furniture in good condition for years to come, but it will also protect it against UV rays – meaning that your investment will stay looking great for even longer.
All of the oils we've looked at today have their own unique benefits. Keep in mind the easy application process, water repellency, UV ray protection, and long lasting results of each oil before making your final choice. Once you do, be sure to follow the instructions closely so that you can enjoy your newly treated furniture for seasons to come!