Do you have a pesky blanket weed problem in your pond? This common aquatic weed can be difficult to get rid of, but we've got the perfect solution! In this blog post, we will discuss the best blanket weed treatment methods and how to get rid of this nuisance for good!
Cloverleaf Blanket Answer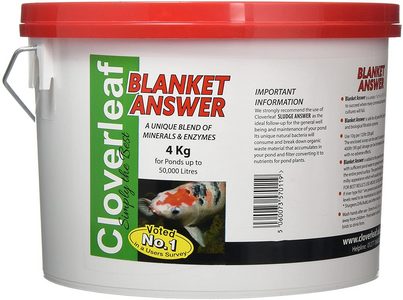 Give your pond a little TLC with Cloverleaf Blanket Answer! This all-natural formula is a unique blend of minerals and enzymes that are safe for both pond fish and plants. This powerful little treatment starts working immediately to clear away blanket weed and keep your pond looking gorgeous. It's safe for pets, and one tub will treat up to 10,000 litres!
Cloverleaf is safe for biological filters and it's easy to apply by watering can. Best of all, it works best at 10 degrees and above, making it the perfect choice for ponds all over the country. The manufacturer offers a variety of packaging options to suit your needs. Give Cloverleaf Blanket Answer a try today!
PROS
Easy to use
Safe for pond fauna
5-10 days for completely disappearance of blanket weed
A single application is sufficient
No need to turn off pump
CONS
Temporary white coating on the bottom
CLEAR waters Biological Solution against Blanket Weed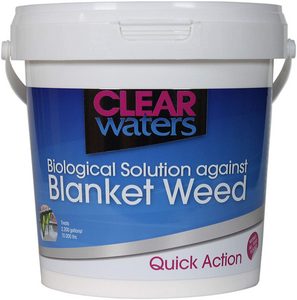 Looking for a fast-acting solution to blanket weed in your pond? CLEAR waters Biological Solution against Blanket Weed is here! This natural pond treatment quickly eliminates this pesky problem, so you can enjoy your pond again. It's available in 1 litre or 10 litres buckets, so you can get the right amount for your pond size.
This unique formula works at temperatures above 4 degrees, making it perfect for year-round use. Plus, it dissolves quickly so you can get back to enjoying your pond or aquarium in no time.
This powerful algaecide utilises monolinuron to effectively clear away unwanted algae, without turning your water milky. Plus, it's safe for fish and frogs. And if you're using a UV clarifier or biological filter, no problem – CLEAR Waters Biological Solution can be used alongside them too!
PROS
Biological safe
Safe for fish
Fast results
Works in cold water
CONS
envii Algae Klear Xtra – Best Treatment for Submerged Blanket Weed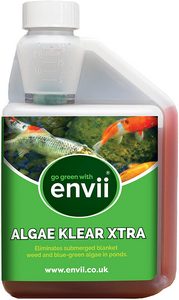 envii is safe and effective algae treatment comes in three different packaging options to suit your needs, and it has minimal impact on the environment. It's safe for all fish, so you can feel good about using it in your pond. This powerful product works quickly, with results usually visible within a few days. It's also highly effective, able to fully kill blanket weed in just two weeks.
One 500ml bottle will treat up to 10,000 litres of water, so you can rest assured that your pond will be looking its best all season long. And because it's applied using a watering can, it's quick and easy to use. Just reapply within a week for heavy blanket weed growth.
envii Algae treatment quickly clears away algae and prevents new growth, all while working at any temperature. So whether your pond is in the middle of a heatwave or a cold snap, envii Algae Klear Xtra will keep it looking crystal clear. Give your fish the healthy and beautiful home they deserve – pick up some envii Algae Klear Xtra today!
PROS
Fast results
Cleans the pond even in the deepest places
Safe for wildlife
Can be used at any season
CONS
Only for submerged blanket weed
Conclusion
Blanket weed can be a major nuisance in any pond or water feature, but there are treatments available to help clear it up. We've looked at three of the most popular blanket weed treatments and given you our thoughts on each one. Now it's up to you to decide which treatment is best for your needs. Remember to consider the safety of fish and other aquatic life, as well as how fast you want the treatment to take effect. With these factors in mind, we hope you find the perfect blanket weed treatment for your pond or water feature.